HON. JUAN M. RIVERA, JR.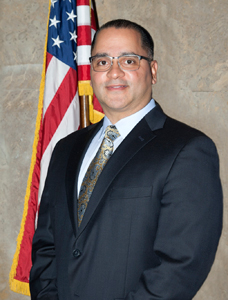 The Hon. Juan M. Rivera, Jr., is the official "keeper of the records," responsible for overseeing the receipt, storage, retrieval and safeguarding of public records — including military discharge forms; and all records relating to real estate occurring in Essex County. Today, some of the millions of documents safeguarded by the Essex County Register of Deeds and Mortgages date back to the County's founding in 1637.
Mr. Rivera was elected on November 5th, 2019 as the Essex County Register of Deeds and Mortgages and sworn into office in January 2020. Mr. Rivera's election was historic as he became the first Hispanic elected to the Office of the Register of Deeds & Mortgages and only the second Hispanic Constitutional Officer ever elected in Essex County. He has dedicated most of his adult life to public service. At the young age of 18, he enlisted himself into the United States Marine Corps where he served his Country honorably. Discipline, integrity, and honor became the foundation of his core values. Mr. Rivera was Meritoriously Promoted, a method where commanders can promote a very few, outstanding Marines via the Meritorious Promotion System due to exceptional leadership, work ethic and performance.
Over the years Mr. Rivera has served the residents of Newark and Essex County in numerous ways. In April 2009, he was elected to the Newark Public Schools Advisory Board and chaired both the Facilities and Personnel Committees during his three-year term. During this time, he also served as a legislative aide to then Central Ward Councilman, Hon. Charles Bell. Mr. Rivera also had the opportunity to serve as Director of Constituent Affairs for the Hon. Senator M. Teresa Ruiz of the 29th Legislative District. On March 9, 2015 he was appointed to the Essex County Board of Elections and served admirably until March 2019. Mr. Rivera has been a long-term member of the Essex County Democratic Committee and he is also serving as the Vice Chairman to the Essex County Veterans Advisory Board.
For over a decade Mr. Rivera has worked for the North Ward Center, founded by Steve Adubato, which is one of the largest non-profit organizations in the state of New Jersey and located in Newark's North Ward. Serving thousands of families throughout the greater Newark area, Mr. Rivera has seen the significant positive impact these services have had in the community.
While public service has been a worthy part of Juan M. Rivera, Jr.'s life, his dedication and commitment to his family has been a driving force in his ability to serve. They keep him grounded and help him keep everything in perspective. There have been many major influences in his life but none more inspirational than his family.
LIST OF PAST REGISTERS
Alfred F. Skinner – October 21, 1897
George E. DeCamp – November 15, 1900
W. Stanley Naughright – November 12, 1935
George Stickel – November 15, 1945
Abbie W. Magee – November 14, 1950
Madaline A. Williams – November 15, 1960
Hyman B. Mintz – November 12, 1969
Larrie W. Stalks – January 2, 1975
Carole A. Graves – January 1, 1995
Phillip Thigpen – January 1, 2010

William Narvaez – November 1, 2013 (Acting Register)
Dana Rone – January 1, 2015
Juan M. Rivera, Jr.- January 1, 2020 (Current Register)
The Essex County Register is an elected, statutory officer who is responsible under the law for recording, filing, and preserving all property transactions within the 22 municipalities of the County. Registers serve five-year terms.