HON. DANA RONE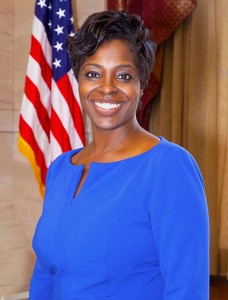 The Hon. Dana Rone, is the official "keeper of the record," responsible for overseeing the receipt, storage, retrieval and safeguarding of public records — including military discharge forms; and all records relating to real estate occurring in Essex County. Today, some of the millions of documents safeguarded by the Essex County Register of Deeds and Mortgages date back to the County's founding in 1637.
With more than 27 employees, serving a population of 783,969 residents, the Essex County Register of Deeds and Mortgages Office is one of the largest and busiest offices in the state of New Jersey.
Ms. Rone was elected to the Office of the Register of Deeds and Mortgages for Essex County in November 2014 and was sworn into office in January, 2015. Before her election to the Office, Ms. Rone was elected to the Board of Newark Public Schools (NPS) in 2000, and ran for the Newark City Council in 2002. In 2003, she was re-elected to the Board of NPS, receiving approximately 11,000 votes, and made history by receiving more votes than any candidate in a school board election in New Jersey. In May of 2006, she became the first woman elected to the Newark Municipal Council in the Central Ward (receiving the most number of votes in recent history). She also served as commissioner for the Newark Housing Authority.
In the early part of 2007, Dana founded the local non-profit organization Zoom! We're Going Places, Inc., a multi-faceted shuttle transportation service-arts after school program.  ZOOM provided shuttle services for Newark Youth and Seniors.
Dana is a product of Newark's Public Housing and Public School systems; she has successfully drawn on her passion for housing and educational reform throughout her career. With an unyielding focus on progressive change, she was the president of the Greater Newark Chapter of BAEO, the Black Alliance for Education Options.  She sponsored Newark residents to attend the BAEO conferences to expose them to options in education and enlighten them about the possibilities of choice in education.
Dana Rone is a Newark native and graduate of Arts High School, one of the district's most successful magnet schools. She is a graduate of St. John's University where she majored in computer science and mathematics and Saint Peter's College receiving her Bachelor's Degree in Urban Studies and Public Policy. She was awarded a merit-based scholarship from The New School in New York City, where she received her Masters Degree in Urban policy Analysis and Management.
LIST OF PAST REGISTERS
Alfred F. Skinner – October 21, 1897
George E. DeCamp – November 15, 1900
W. Stanley Naughright – November 12, 1935
George Stickel – November 15, 1945
Abbie W. Magee – November 14, 1950
Madaline A. Williams – November 15, 1960
Hyman B. Mintz – November 12, 1969
Larrie W. Stalks – January 2, 1975
Carole A. Graves – January 1, 1995
Phillip Thigpen – January 1, 2010

William Narvaez – November 1, 2013 (Acting Register)
Dana Rone – January 1, 2015 (Current Register)
The Essex County Register is an elected, statutory officer who is responsible under the law for recording, filing, and preserving all property transactions within the 22 municipalities of the County. Registers serve five-year terms.