HON. DANA RONE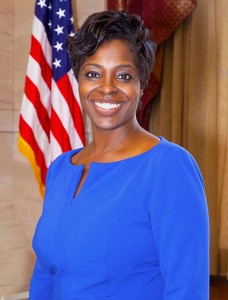 Dana Rone is an urban education consultant who works tirelessly to create options for parents and children in urban areas throughout New Jersey, by creating after-school programs, athletic tutorial programs, specialized supplemental educations programs. She is a well-known advocate for low-income housing residents and the more than 44,000 children who attend public schools in Newark.
As a product of Newark's public housing and public school systems, she has successfully drawn on her passion for housing and educational reform throughout her career. With an unyielding focus on progressive change, she was elected to the Board of Newark Public Schools (NPS) in 2000, and ran for the Newark City Council in 2002. In 2003, she was reelected to the Board of NPS, receiving approximately 11,000 votes, and made history by receiving more votes than any candidate in a school board election in New Jersey. In May of 2006, she became the first woman elected to the Newark Municipal Council in the Central Ward (receiving the most number of votes in recent history). She also served as commissioner for the Newark Housing Authority.
In the early part of 2007, Dana founded a local non-profit organization "Zoom! We're Going Places, Inc." a multi-faceted shuttle transportation service-arts after school program. ZOOM provided shuttle services for Newark youth and seniors.
Ms. Rone was a consultant for Excellent Education for Everyone for 10 years, where she advocated for the rights of urban children to receive the thorough and efficient education the state constitution demands, and increased options and competition, via school choice, as a means to improve public education in the state's 31 Abbott (urban) Districts.
Dana Rone is a Newark native and graduate of Arts High School, one of the district's most successful magnet schools. She is a graduate of St. John's University where she majored in computer science and mathematics and Saint Peter's College receiving her Bachelor's Degree in Urban Studies and Public Policy. She was awarded a merit-based scholarship from The New School in New York City, where she received her Masters Degree in Urban policy Analysis and Management.
She was elected to serve as Register in November 2014.